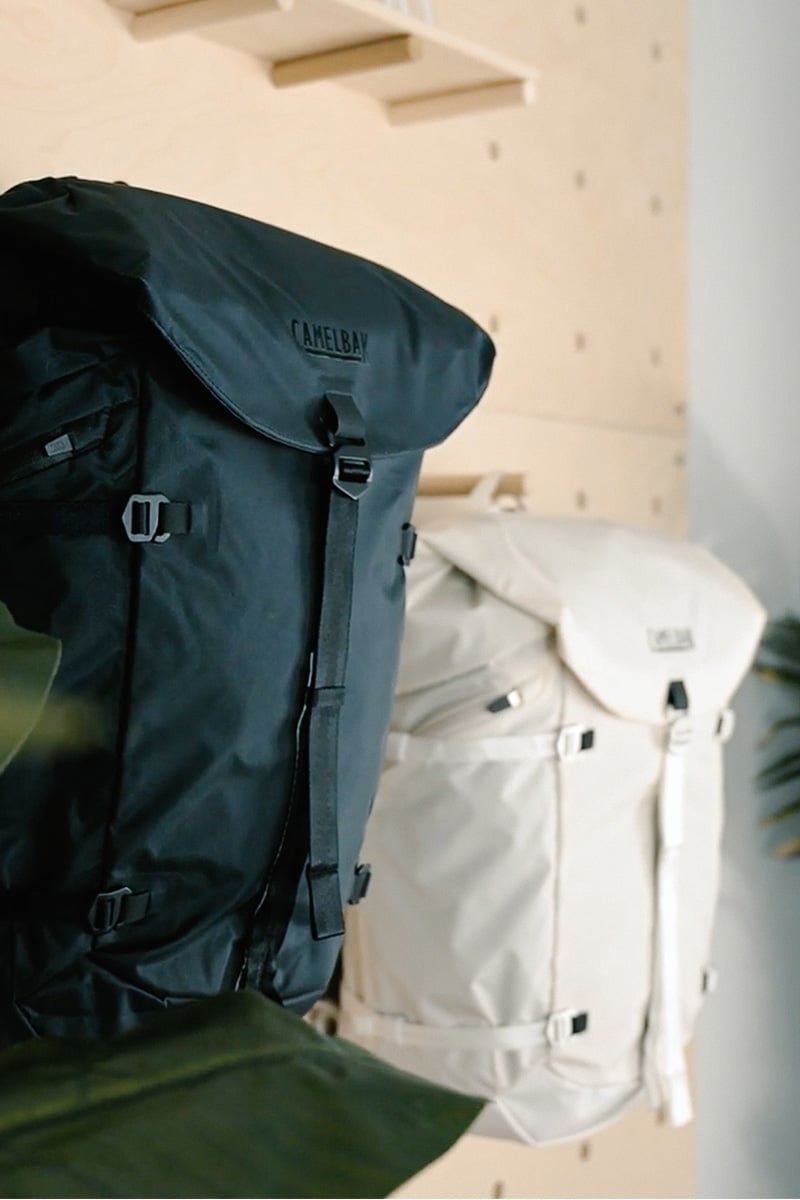 Behind the Design of CamelBak's new Adventure Travel Pack
From Sketches to Reality: Unveiling the Creation of Our Most Sustainable Pack
When embarking on the creation of our Adventure Travel Pack (A.T.P.), our goal was to redefine sustainable design. Before you embark on your next adventure, whether it's a hike in the Sierras or a trip to Mexico City, countless hours of thoughtful consideration and rigorous field testing have been poured into every stitch of this pack.
As an Industrial Designer, Pat Shields plays a crucial role in transforming user insights into sketches, prototypes, and CAD models that visually communicate the initial design concept. Hailing from Michigan, Shields brings a unique background in construction and ceramics, which allows him to experiment with shape and form. His latest endeavor was the creation of the A.T.P., our most versatile and sustainable pack yet.
"I've always been drawn to creating functional objects," Shields explains. "From construction to ceramics, and now product design. Soft goods, in particular, offer an immediate and enjoyable prototyping process. Unlike hard goods, where it takes much longer to hold something functional in your hands, I can take my grandma's sewing machine and create a mountain biking bag. It's truly an incredible experience."
Finding the Perfect Shape
During the conceptualization phase, Shields enjoys getting hands-on with various materials. "When prototyping smaller scale objects or hard goods, I carve wood and foam to visualize my designs. This process allows me to break down physical forms and explore their potential. Soft goods design, in particular, is highly iterative. I'm known for dissecting my samples, removing harnesses, and re-sewing everything. I constantly take things apart and work through them by hand."
Shields firmly believes that great design should be intuitive. "We strive to sculpt our products to be minimal in terms of impact and resources, while still ensuring immediate understanding when you pick them up. This was a key focus when designing the A.T.P. We asked ourselves, 'How can we create a traditional panel loader that is simple, versatile, and packed with performance features?'"
To find inspiration, Shields and the design team explored vintage gear, such as climbing bags and mountain bikes. "We seek out familiar aspects of designs from the past and observe how they have evolved or remained true over time. This process teaches us a great deal about how we interact with objects."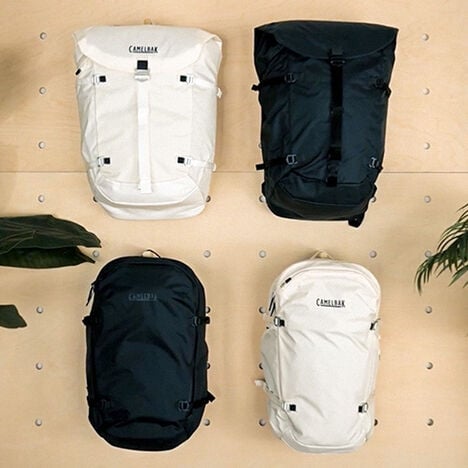 However, Shields finds the most inspiration from being out on the trail. "Living in the Bay Area is fascinating. You have the old hippies who practically invented mountain biking in the 60s, still using the same packs they always have. Then there are those who curate every aspect of their kit. I can sit at a trailhead for an hour, observing everyone's personal style, and gather a ton of inspiration. One particular piece that stood out to me was my dad's old MEI pack. It's timeless, decades-old, and still holds up incredibly well."
Blending Timeless Silhouettes with Modern Materials
Shields constantly strives to blend timeless silhouettes with modern materials in his designs. "I always remind myself that Bill Briggs skied the Grand on wood skis! The way humans interact with objects greatly influences their performance. For instance, in bike races, you'll find someone investing in full carbon fiber everything to save a few pounds, while an old-timer flies by on a heavy steel bike. As designers, we must wrestle with the idea of true innovation and strike a balance between the old and the new."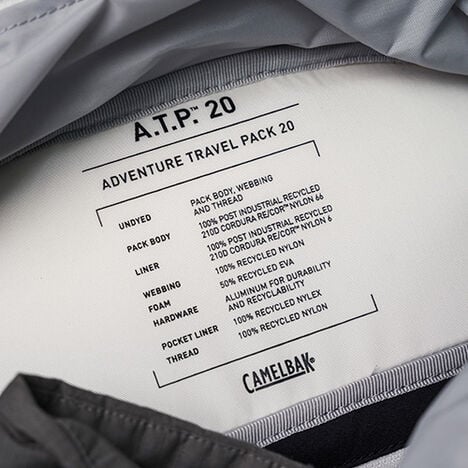 Built for the Future
Sustainability is always at the forefront of our design process, but with the A.T.P., we had the opportunity to take it even further, earning a Platinum badge on our internal sustainability scale.
"In design, you always lead with your best foot forward," Shields emphasizes. "Responsible design is crucial, even if you don't receive credit for it. This was our vision for the A.T.P. We wanted to incorporate these values into everything we do."
Shields explains, "Typically, we start by focusing on the main body material and liner, as they have a high yield and can make a significant impact quickly. However, with the A.T.P., we challenged ourselves in every category. We partnered with Cordura to use Re/Cor, a high-tenacity, post-industrial fabric. Instead of plastic buckles, we switched to all-metal hardware, as aluminum is infinitely recyclable. We also ensured that the A.T.P. is made entirely from scrap fabric, eliminating the need for virgin materials. Additionally, we recycle foam and use a PFAS-free coating that provides reliable resistance without harsh chemicals."
A Bag That Breaks Boundaries
Inspired to design something that transcends traditional categories like "hike" or "bike," Shields and the team focused on creating a pack that is versatile enough for everyday life. "This led to the concept of the A.T.P. It's not just a standard work bag. We wanted it to feel at home in any environment and perform exceptionally in any setting. You can remove the laptop sleeve, fill the reservoir, and embark on a hike. From the outside, it boasts a minimal look, but on the inside, it surprises with hidden utility."
"One thing we consistently hear from our pack users is, 'I take it everywhere. I use it for everything.' Our products truly become an integral part of people's lives. You'll find our mountain bike packs on ski trails, our ski packs on mountain bike trails, and some even use our smaller mountain biking bags for marathons. Our audience of athletes craves versatility, and we aim to exceed their expectations."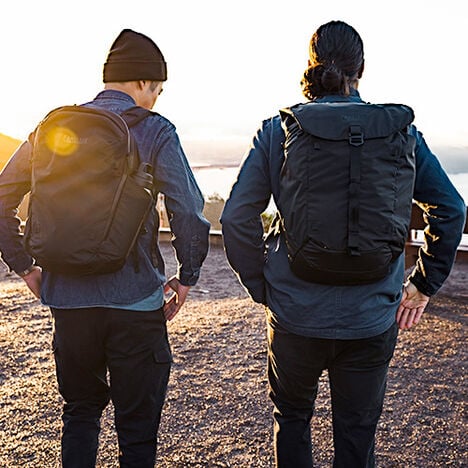 Moving Forward
Looking ahead, Shields is excited about the trend of streamlining gear. "While there may be one right tool for a specific job, there is ample room for simplification. People are becoming more comfortable with creating their own sub-organization and personal hacks. As designers, this allows us to create objects that possess depth while being distilled. The features list may be shorter, but each feature holds significant meaning. This is a principle I strive to bring to all my projects."