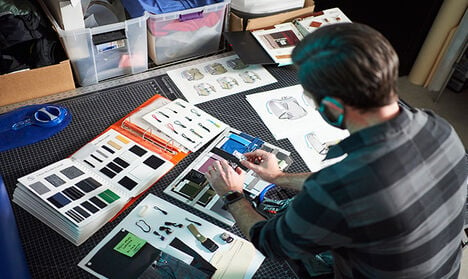 CamelBak Careers
Interested in joining our team? Read on for more information about CamelBak and open positions.
Work with Us
CamelBak is a safe, supportive, and collaborative environment where we all move the ball forward. We are passionate about improving the outdoor experience through hydration; striving to make the planet a better place for all of its inhabitants through our work in sustainability and clean water access.
CamelBak has been recognized as one of the "Best Places to Work" by Outside Magazine. Not only do employees enjoy a casual, active lifestyle when off the clock, we promote a casual, supportive, team-oriented work environment while on the job. You won't see any stuffy suits and ties at our headquarters.
And, did we mention that our corporate headquarters is located in Petaluma, California? Petaluma is in the heart of California's wine country, Sonoma County, near Northern California's outdoor hotspots.
We are looking for dynamic individuals who are motivated, passionate, adaptable, and creative team players. CamelBak is growing in dynamic new ways and recognizes that the right people will enable us to continue our success. If CamelBak sounds like the place for you, take a look through our current opportunities listed below.
Our recruitment process is coordinated by the Human Resources team. We ask that applicants do not contact hiring managers or our Associates directly.
CamelBak promotes and celebrates a diverse and equitable workforce. We acknowledge the unique needs of our workforce through the creation of supportive spaces in our work environment, creating opportunities for growth with education, training, and mentorship.
CamelBak Products, LLC is an Equal Employment Opportunity employer. All qualified applicants will receive consideration for employment without regard to race, national origin, gender, age, religion, disability, sexual orientation, veteran status, or marital status.
As a proud supporter of the Camber Outdoors CEO Pledge, we seek to attract a skilled workforce that reflects the demographics of current and future outdoor enthusiasts. Together, we are building a company and an industry where great ideas, born from a diversity of experiences, thrive.
CamelBak Products, LLC endeavors to make www.camelbak.com accessible to any and all users. If you would like to contact us regarding the accessibility of our website or need assistance completing the application process, please contact Human Resources at (707) 796-9330.
CamelBak is part of the Vista Outdoor family of brands.
Current Open Positions
Follow the link below to visit the Vista Outdoor Career Portal and peruse all open positions. To see job listings specific to CamelBak, filter by Petaluma, CA.
Search Open Jobs