Little Bellas, Big Dreams
How one organization is helping young women realize their potential through biking
Little Bellas is a non-profit organization that provides mountain biking programs for girls ages 7-18. The organization was founded in 2007 by Sarah Gurney, who wanted to create a space where girls could learn to ride bikes, build confidence, and make friends.
The programs are designed to be fun, challenging, and supportive. The organization's experienced mentors work with the girls to develop their skills, overcome obstacles, and achieve their goals. In addition to riding, the girls also participate in activities such as hiking, camping, and rock climbing.
Little Bellas has had a profound impact on the lives of the girls who have participated in its programs. Many girls have reported feeling more confident, capable, and connected to their peers since joining the program. Little Bellas has also helped girls develop a love of cycling, which can provide them with a lifelong source of physical and mental health benefits.
Through a commitment to making its programs accessible to all girls, regardless of their economic background. The organization offers financial assistance to girls who need it, and it also provides loaner bikes and helmets.
Making an Impact
Little Bellas is making a real difference in the lives of young women. Here are just a few examples of how the organization has impacted its participants:
Confidence:

Many girls who participate in Little Bellas programs report feeling more confident and capable after completing a season. This is often due to the positive reinforcement they receive from their mentors and peers, as well as the challenges they overcome on the trail.

Skills:

Little Bellas girls develop a variety of skills through their participation in the program, including mountain biking, hiking, camping, and rock climbing. These skills can benefit them in many areas of their lives, both inside and outside of the outdoors.

Friendships:

Little Bellas girls form strong friendships with their fellow participants and mentors. These friendships can provide them with a sense of belonging and support, which can be especially important for girls who may feel like they don't fit in elsewhere.

Love of cycling:

Many Little Bellas girls develop a lifelong love of cycling through their participation in the program. Cycling is a great way to stay active, get outside, and have fun. It can also be a great way to meet new people and make friends.
Elysar Naja, Program Lead of the newly established Pittsburgh Chapter, says it's one of the most powerful parts of working with Little Bellas.
As Naja describes it, "What makes Little Bellas so special is that there is an opportunity to focus on individual improvement and empowerment, while having a supportive group of people around you to cheer you on, celebrate your victories, and pick you up when you fall. The program facilitates this team-mentality in a sport that is technically played as an individual."
Building a New Chapter
Tina Wade, the Program Lead of the Pontiac Access Chapter is creating a new program in Pontiac, Michigan. Wade has been hard at work building a cycling program in the city just a few short miles north of Detroit.
Wade believes it's critically important to create an access program for Pontiac, telling us that, "When people think of giving back to the community, everyone's first thought is Detroit. But one of the things that happens is Pontiac, which is also a community in need, tends to get overlooked because Detroit is next door. I think it's important for young girls to see people that look like them doing the things that they're interested in trying. Little Bellas is really about building relationships. Mountain biking is just the vehicle we use to form those bonds."
Today, Wade wants to ensure that the Pontiac Access Program helps create a pipeline that connects mountain bikers across Michigan. Wade hopes that, "as girls get more comfortable and want to progress, they can join adventure rides together or maybe even start racing. But ultimately, we really just want to make sure everyone is having fun."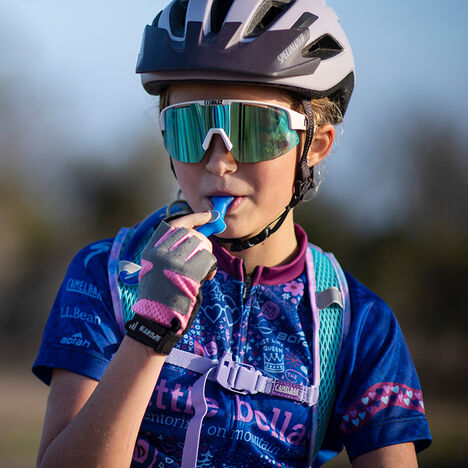 Making Cycling More Accessible
Roughly 300 miles east in Pittsburgh, a new access program is also being built. Elysar Naja has been participating as both a Mentor and Program Lead for Little Bellas since 202. When there was talk of starting an additional chapter in Pittsburgh in 2022, she knew she wanted to be part of it.
"I really wanted to push myself to become more involved as a Program Lead and facilitate the start of the Access Programs to give more young girls the opportunity to get outside and build their confidence," says Naja. "It had been a goal of mine to start a chapter since I had heard about Little Bellas, and this was the perfect opportunity."
A key goal of this new Pittsburgh Program is making it accessible to everyone. "As an Access Program, the intention of the Pittsburgh Program is to provide the opportunity to young girls that either don't have the means to get into mountain biking on their own, or wouldn't have even considered the possibility of trying out mountain biking," Naja tells us. "We want to create an avenue that makes it obtainable and feasible for young girls to branch out and learn new skills through mountain biking that translate into other areas of their growth journey off the bike in their everyday lives. We want this program to feel inclusive while holding space for all our participants and their varying backgrounds, skill levels, and financial capabilities."
Get Involved
If you'd like to get involved with Little Bellas, there are a few ways you can help.
- Volunteer: Become a mentor and help girls build confidence and grow their cycling skill set. You can learn more about how to apply here.
- Donate: Your contributions help make it possible for more girls to attend camp and have access to loaner bikes and safety equipment. You can donate here.
- Start a Chapter: If you'd like to start a Little Bellas chapter in your community, you can find more information on how to get started here.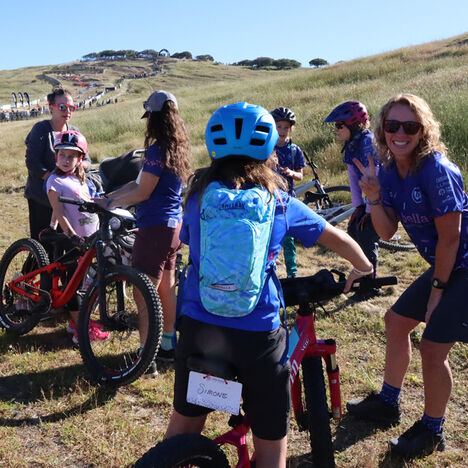 Looking Ahead
Little Bellas is committed to helping girls reach their full potential through cycling. The organization is planning to expand its reach in the coming years, and it is also working to develop new programs and initiatives.
"Little Bellas is such an incredible organization," Naja says. "Their reach already extends from coast to coast, and the mentors are all so genuinely excited to volunteer their time to their respective programs."
When asked what Little Bellas' goal is for the future, she tells us it's to continue to increase access and break down barriers for any girl who is interested in biking. "Ultimately, the more Bellas that have access to these programs, the more opportunity we'll have to make a positive impact and help all of them recognize their own potential."
If you are interested in learning more about Little Bellas' future plans, please visit the organization's website at www.littlebellas.com.