Outdoor Gear Essentials: Baja California Sur, Mexico
Everything you need to pack for an epic trip south of the border.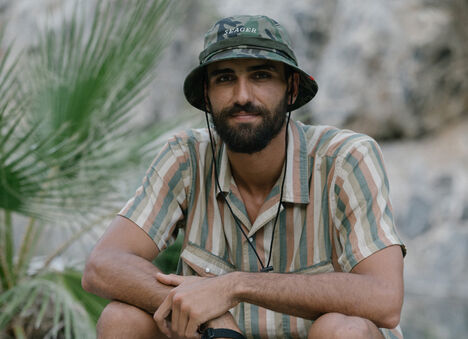 Meet Christian Ramirez
Or "Cram" as his friends call him. He's a photographer, surfer, and all-around outdoorsman based in San Luis Obispo—just a few hours north from the vast deserts and crystal-clear beaches of Baja, California Sur. When he's not out on assignment or documenting and finds himself in need of a little well-deserved R+R, he packs up his truck and heads south of the border.
What to Pack For Your Trip to Baja, California
"Baja is, in my opinion, the Wild West," Cram says. "Long stretches of empty landscape with unpaved and undeveloped coastal roads and just enough infrastructure to make long trips through the desert possible. Baja is the perfect reset from the modern world I live in day-to-day in California. The landscape is barren. Some areas it's really just you out there, you're on your own — quite a juxtaposition from the crowded and digitally-saturated world we have in the States."
When it comes to getting off the grid but still living like a king, Cram is an expert. That's why we asked him to help us pull together a Baja California Sur packing list that's full of all the essential gear you need to make the most of your time in Mexico. From camping and surfing to hiking and hydration, these are a few essential pieces of outdoor gear that will serve you well no matter what the day holds in store.
Stay Hydrated
"Hydration is without a doubt the most key element to spending time in Baja," Cram says, "with water sources a little more questionable south of the border, there's no such thing as packing too much clean water. When you think you have enough, pack an extra gallon or two."
Here's what you need to make sure you stay well-hydrated and ready for action.
Horizon Drinkware — Available in Strawberry, Lagoon, and Dusk Blue, these new colors are inspired by the bold hues of Baja, our new Horizon Drinkware line will remind you of the bright beauty of the ocean and soft, muted tones of the desert every time you take a sip.
Insulated Water Bottle — Fit Cap 25oz Water Bottle is perfect for stashing in your pack so you can stay hydrated on the go. The insulated stainless steel construction will keep things cold even during the hottest part of the day.
CamelBak® Lifestraw Bottle — Cram always travels with his Camelbak® filtered by Lifestraw® Water Bottle. He describes it as his favorite and most vital piece of equipment when he's down in Mexico. As he puts it, "It's a great backup if your well runs dry and also helps you purify tap water.
Electrolyte Tablets — When you're out in the sun, drop in a few tablets to help replace the electrolytes you lose in sweat throughout the day. Our go-to is the Nuun Sport Electrolyte Tablets—the perfect blend for everyday exercise and on-the-go hydration.
Take a Hike
There's no shortage of hiking trails, sandy beaches, hidden oases, and wide-open deserts in Baja to explore. After countless trips, Cram has got his packing list down pat.
"I always pack a day hike kit," Cram says. "Maybe the road ends and I spotted some good waves another mile down, or I just want to cover some ground fishing along the coast. No matter where I'm headed, it helps to have a good pair of shoes, a light day pack that can fit all the essentials, and some solid sun protection."
Make sure you have everything you need to make your day hike a success:
Travel Backpack — The Fourteener™ 26 Hydration Hiking Pack with Crux® 3L Reservoir is an excellent travel pack that holds enough water to last you all day long. The Air Support™ Max Back Panel provides extra breathability to keep you cool in warm climates, while the Front Bungee System allows you to securely stash a light layer or wetsuit keeping your hands free.
Good Hiking Boots — If you're going off-grid, it's a good idea to bring a solid pair of hiking shoes or boots that can get you to and from remote camping sites, secluded fishing spots, and hidden surf breaks

.

Our favorite? The Moab Speed Mid from Merrell, available in both men's and women's.
Protective Buff — A moisture-wicking buff will soak up sweat from your brow and help you stay cool when you're out on the water. The thin fabric offers breathable, versatile sun protection without taking up space in your bag. A CamelBak® staff favorite is the

CoolNet UV series by BUFF

.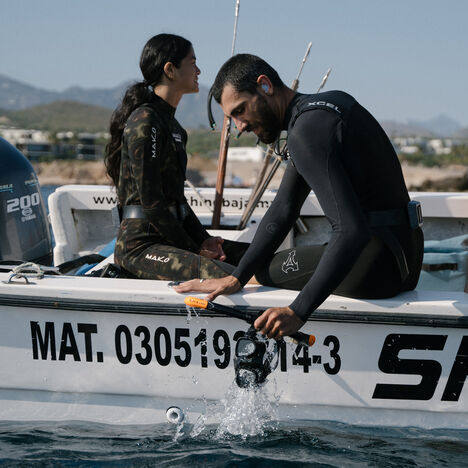 Surfing Essentials
There are few better surf breaks to be found in Mexico than Baja. Whether you're bringing your long board or opt for your short board, there are a few other pieces of gear that will make your time in the water a lot more fun. We've got you covered on everything else you need to bring along for the ride.
"My surf kit includes 2-3 boards, all in board bags to keep them from getting damaged when driving over bumpy roads," Cram says. "Depending on the time of year, I bring either a thick wetsuit or a springsuit. Plus extra fins, extra fin keys, extra leashes, and of course surf wax and sunscreen."
Surf Wax — Keep a surefire grip on your board. Rip Curl's eco-friendly surf wax is Cram's go-to.
The Right Wetsuit — The beach might be hot, but the water can be cold. Bring a good season-appropriate wetsuit to stay warm.
Reef-Safe Sunscreen — Protect your skin and the fragile underwater ecosystem too.
Refueling
"Markets to pick up additional supplies can be few and far between in Baja, so it's important you pack enough food for more days than you plan on staying," Cram says. "Since everything needs to fit into your truck, or on your back — real estate is scarce. I try to pack as much dry food as possible with just a few protein options that require refrigeration."
You're bound to work up an appetite after all that adventuring. Make sure you've got a cold drink and some hot food waiting for you back at camp with these refueling essentials to ensure you're in good spirits before turning in for the night.
The ChillBak™ Pack 30 Soft Cooler & Hydration Center — The Chillbak™ is a great cooler for extended trips. It packs really well and has plenty of space for ice and food with a large integrated water reservoir that keeps your drinking water cold.
Travel Camp Stove — Something light and easy to supplement any cooking you do over the campfire. Camp Chef's Everest 2X camp stove is both lightweight and portable along with being an outdoor gear favorite.
Utensils — A good set of reusable utensils doesn't just save the planet, it also saves you the frustration of having to turn things over in the pan with your hands.
Camping Out
Sleeping under the stars, listening to the waves crashing in the distance is what makes camping in Baja so special. There are miles of wide open campsites waiting for you to pitch your tent, so be sure to bring along everything you need to help make basecamp feel more like home.
Sleeping Pad, Bag, and Pillows — "Sleep is key on any trip," Cram says. "That's why my camping kit always includes a really nice sleeping pad, sleeping bag, and two packable pillows. Baja gets dusty and dirty really fast. Dirt seems to always find its way into every inch of your gear, so I keep my bedding in a large canvas bedroll to keep it all clean and tidy."
Lightweight Tent — When you're exhausted from a long day of surfing or laying in the sun, the last thing you want to have to do is fiddle around with your tent. Bring something that's quick and easy to assemble to make sure you spend more time sleeping than you do setting it up. "I always keep an ultralight tent that's able to be packed into a backpack just in case you need to hike in," Cram says.
Headlamp and Flashlight — It gets dark in the desert at night, make sure you've got a headlamp and flashlight to help you find your way back to the tent without fumbling around. A good headlamp, like the rechargeable

Petzl Artik Core, has the added benefit of keeping your hands free while you're cooking over the campfire.
Everything Else: All the Extras
It's the little things that count in Baja. Don't forget to pack these crucial comfort items to make life a whole lot easier.
Extra Socks — "I pack a ton of socks," Cram says. "There's no showering when you're camping out in the open and there's something about putting on clean socks that makes you feel at least a little more comfortable."
Makeshift Sun Shelter — "Pack some rope, tie downs, strong tape, and a large piece of fabric to make shade with during the day," Cram says. "I use cheap 12x12 painters' canvas and bring that everywhere with me. You'll find a way to make it work with what you've packed and some driftwood."
Dry Bags — Keep your most essential tech and valuables safe and dry while out on the water.
Travel Fishing Rod — Cram never leaves home without one. "I always keep a three-piece rod and reel with lures in my truck," he says. "You never know where they'll be biting."
Get Going
All of this gear is important, but the most important thing you can bring is an appreciation for the outdoors and an appetite for adventure. Few understand that better than Cram.
"I love the isolation in Baja," he says. "It never fails to make me wonder what's around the next corner. Whether that's going the extra mile looking for surf, finding pockets of drop-offs for fishing, or just seeing how far I can take the truck before it breaks down. It's all part of the Baja experience that can't be replicated anywhere else."