10 Fun and Easy Ways to Get Kids Outside
Start inspiring a stronger connection to nature in your children.
Instilling a Love of the Outdoors In Your Kids
Inspiring a love of the outdoors in our children is one of the most important things we can do as parents. Instilling a lifelong appreciation for nature and curiosity about the world that surrounds us is the greatest gift you can give your kids at an early age. Spending time outside is essential for children's physical and mental health. If you're looking to spend more time outside with your children and help them build a strong connection to the great outdoors, these are a few tips for getting started.
1. Make It Part of Your Routine
If you want to get your kids interested in the outdoors, there's no easier or better way than making spending time outside part of their regular routine. It can be as simple as taking a family walk after dinner, going for a bike ride on a Saturday afternoon, or having a picnic together in the park. No need to plan too big of a trip too soon, that's a quick way to end up overthinking and inevitably overcomplicating things. Start small and be consistent.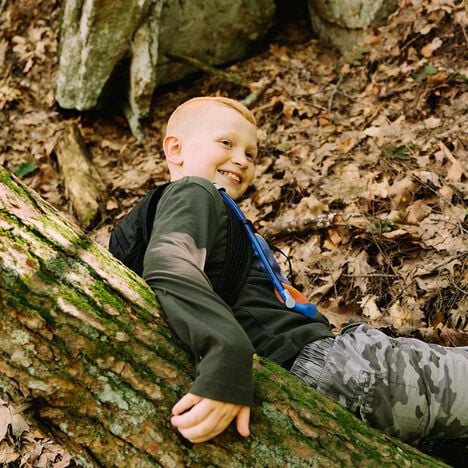 2. Embrace the Elements
Nothing puts a damper on your day faster than getting caught in an unexpected storm. However, even rainy days can be a chance to get outside as long as you're prepared. Teach your kids how to properly layer their clothes and how to pack a bag for different weather conditions, and they'll be able to have fun even when the weather takes a turn for the worse.
If it's a hot day, use it as a chance to do some sun safety education. Teach them how to apply sunscreen and pick up a hat that they like and can always bring along with them that they don't mind getting dirty.
If it's too miserable to be outside, you can build a makeshift tent in your living room and play pretend. The same concepts apply, they just require a bit more imagination. Help them form constellations using sticky stars on the ceiling of their bedroom, tell ghost stories around the pretend campfire, or teach them how to make shadow puppets with a flashlight.
3. Use Technology (For Good)
A big part of what makes the outdoors fun is being able to disconnect and spend time away from our screens—although there are still some ways your smartphone can help enhance your experience.
Nature apps like Seek by iNaturalist helps you identify plants and animals that you spot along your journey. Look up a few local birds or plants you can expect to find along the trail and make a game out of trying to find them all.
Bird ID apps like Merlin Bird ID by Cornell Lab can help you identify birds just by making a recording of their call, taking a photo, or answering a few questions.
Geocaching can also be a great way to get kids interested in exploring. Essentially one big scavenger hunt, apps like this one can help you turn an ordinary trail hike into a treasure hunt.
The stars have always been a source of fascination for kids and adults alike. Help them more easily spot constellations by taking a nighttime stroll around camp with Star Walk.
4. Kid-Sized Gear
If your kids see you using something, you can bet they're going to want to use it too. Help them feel involved and teach them about the importance of being prepared by building a mini kit of their own.
Pack a small bag like our Kids Mini M.U.L.E.® with pint-sized binoculars for spotting birds, a magnifying glass for getting a closer look at plants, a mini first aid-kit with band-aids featuring their favorite characters, and of course, plenty of hydration. Give them a small notebook and help them record what they see, hear, and feel when they're outside. Teaching them how to organize a bag, fill a hydration reservoir, and take care of a scrape can make them feel more like a grown up and help keep them engaged and interested for longer.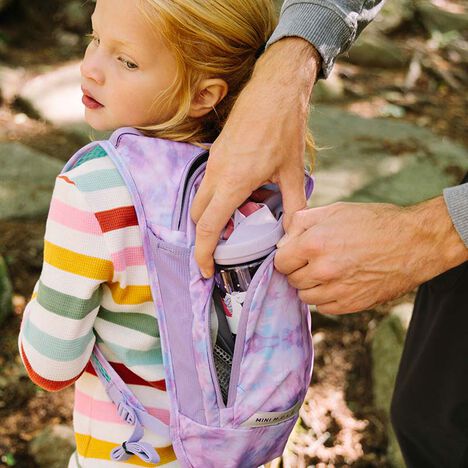 5. Get On Their Level
Don't just charge ahead. Take your time to meander along with them. Let them point out things that interest them and stop to enjoy the sights and sounds together. Spending time outdoors with kids is all about the journey, not the destination. Who cares if you never make it to the summit? If they had more fun studying the caterpillar they found, it's a day well spent. Get down on their level and you'll start seeing things through their eyes.
6. Follow Their Passions
Not every activity is going to be a hit. Instead of forcing kids to participate in things they don't already gravitate toward, try to find something that fits in with their existing interests and build from there.
Every kid is different. Some love to bike, others like to hike. Some prefer the quiet contemplation of birdwatching, and others like to get their energy out while climbing trees in the park. By planning an excursion that's centered around their interests, they're more likely to want to do it again. From there, they'll be able to start developing skills that will stick with them for the rest of their lives.
7. Do Your Planning At The Kids Table
By letting your kids have a say in your outdoor adventures, they'll feel a sense of ownership and be much more likely to want to spend time outside. Depending on their age, you can teach them map and compass skills by showing them where you plan to hike or bike that day. Let them choose the trail you'll take or the park you'll visit and keep track of them all so you can cross them off the list together.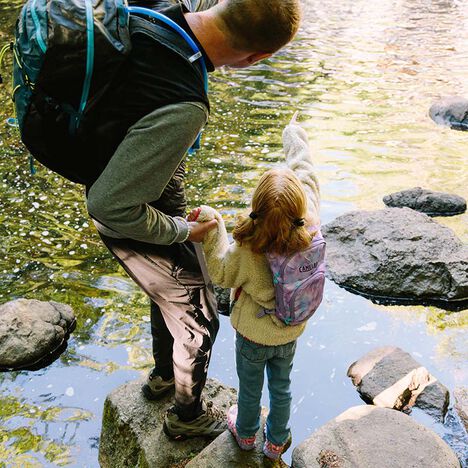 8. Don't Be Afraid to Get Messy
One of the best parts of getting outside with your kids is letting them get a little dirty. It doesn't matter if they're running through the sprinkler or splashing through a stream, there's no more surefire way to ensure they'll have a lot of fun while also building a strong connection to nature. It's worth the dirty laundry to help them feel the freedom the outdoors provides.
9. Track Your Progress
If you plan on visiting some National Parks, pick up a National Parks Passport. Help your kid collect stamps or stickers from each one you visit and track your progress as you go. The free parks maps handed out at every visitor center and most park entrances can also be a great way to show your little ones how hiking trails connect and which monuments to keep an eye out for.
10. Build a Strong Bond
Whether you're camping out under the stars in your backyard or taking a trip to a National Park together, the basics remain the same: be patient, be prepared, and be curious. Encourage them to look up, to breathe deep, and acknowledge all their senses. By sharing the things you love about the outdoors with your children, you'll be able to create a strong bond and lifelong love of learning about nature that will stay with them forever.
Getting kids outside is essential for their physical and mental health, but it can be challenging in today's digital age. By planning fun and engaging outdoor activities, you can encourage kids to spend more time outside and appreciate the natural world. Try these ten ideas and see how they work for your family. Remember to stay hydrated during outdoor activities by bringing along a CamelBak® hydration pack or water bottle.