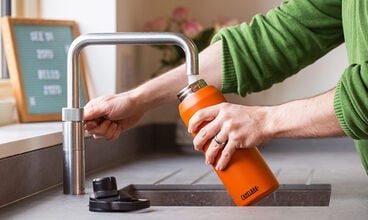 Frequently Asked Questions
Care & Cleaning
Keep your gear in top shape with proper care and cleaning.
Are CamelBak water bottles & drinkware dishwasher safe?
Mostly, yes! Your CamelBak sports bottles, such as Podium and Podium Chill, should be hand washed (we recommend hot, soapy water and a bottle brush). Caps for these bottles can go in the dishwasher on the top rack.
All other CamelBak plastic bottles, stainless steel bottles and drinkware are dishwasher safe. This includes Chute, Chute Mag, eddy, eddy+, kids' bottles, Horizon Drinkware, MultiBev, Forge Flow, Hot Cap, and any products made with Tritan Renew. Just be sure to put the caps on the top rack to avoid damage. And when washing your MultiBev bottle, take it apart before putting it in the dishwasher.
Are there products you recommend for cleaning reservoirs, bottles, & drinkware?
We offer a full selection of cleaning accessories for all of our products. From eco-friendly cleaning tablets to brushes and a reservoir dryer, we've got what you need to make cleaning a breeze.
How do I clean the eddy kids' bottle?
The eddy kids' bottle is built a little differently than the grownup eddy bottle—we made the bite valve harder to pull off so it won't create a choking hazard.
Start by removing your one-piece bite valve and straw for cleaning. It's easy to do:
First, unscrew the cap and pop out the straw
On the underside of the cap, grab the pull tab on the bottom of the bite valve and pull it out in one motion
After that, just clean the bottle and bite valve with warm, soapy water, or place them in the top rack of your dishwasher.
To re-insert the bite valve into the cap:
Turn the cap upside down and push the bite valve up through the opening. Make sure the bite valve's pull tab is pointing towards the center of the cap (in the same direction as the bottle handle).
Once the bite valve pokes through to the top of the bottle, you can pull it into place. If you notice two little grooves on the side of the bite valve, it means you've pulled it out a little too far—just push it back in until those grooves are seated.
Next, just push the straw back into the bite valve until it fits snugly.
Please do not put the eddy kids bottle in a microwave or bottle sterilizer to clean.
How do I clean my backpack?
If your pack gets a little dusty, just wipe it down with a damp cloth. If it's really filthy and needs a deeper cleaning, here's what to do:
Soak it in warm or cool water with some mild soap.
Rinse it thoroughly with cool water (skip this step, and you might end up creating some suds the next time you sweat with your pack on).
Hang it up to air dry.
Your pack can go just about anywhere you go—but NOT in the washing machine. Machine-washing your pack can twist or tear the straps and fixtures, and wear away the fabric's weatherproof coating. If you decide to go rogue and throw your pack in the wash anyway, just be aware that it voids the Got Your Bak™ warranty.
How do I clean my Podium bottle?
The Podium series bottles are all easy to clean. Here's how:
Remove the bottle cap and make sure the Lockout is open so water can circulate through as you wash it
You can also remove the lockout out of the main cap to clean it separately (see video below for additional instructions).
Wash the bottle with warm soapy water and a bottle brush, if necessary
Wash the cap with warm soapy water OR put in the top rack of the dishwasher
How do I wash my CamelBak reservoir before first use?
Follow these steps:
1. Fill reservoir 1/2 full with warm water and mild soap.
2. Shake reservoir to mix water and soap.
3. Elevate the reservoir so drink tube exit port is at the base and Big Bite™ Valve is below the reservoir.
4. Pinch bite valve, allowing solution to flow into drink tube, and through the bite valve.
5. After washing, rinse away cleaning solution in the reservoir and drink tube.
6. Drain all remaining water. The reservoir is ready to use.
7. If storing, air dry reservoir with Reservoir Dryer™ accessory so no moisture is trapped inside.
How do I clean my stainless steel water bottle?
Cleaning Vacuum Insulated Stainless Steel Vessels:
The Chute, eddy and KickBak stainless steel vessels can be easily cleaned with a bottle brush using warm water and mild soap.
Cleaning Lids:
Bottle caps, spout caps, tethers and bite valves can all be cleaned in the top rack of the dishwasher or by hand with warm, soapy water. Remove the cap, spout cap, tether or bite valve from the vessel before washing.
For a deeper cleaning, add a drop of mild soap or tablespoon of bleach to a clean glass jar filled with water. Drop the bite valve, straw and cap into the solution, and tightly close the jar's lid. Shake the mixture around for 30 seconds, and then let the parts soak for about 15 minutes. Rinse and shake dry.
How do I clean my eddy or Chute plastic bottles?
Our bottles are easy to clean by hand or in the dishwasher. Here's a quick breakdown of the best way to wash each bottle.
eddy, Groove and any other bottle with a Big Bite™ Valve:
Pull off the bite valve and straw from the cap.
Clean it in the top rack of the dishwasher or by hand with warm, soapy water.
If you like to use a bottle brush, we don't recommend forcing it through the bite valve slit as it can tear the silicone.
For a deeper cleaning, add a drop of mild soap or tablespoon of bleach to a clean glass jar filled with water. Drop the bite valve, straw and cap into the solution, and tightly close the jar's lid. Shake the mixture around for 30 seconds, and then let the parts soak for about 15 minutes. Rinse and shake dry.
Now, to re-insert the bite valve into the cap:
Flip the stem collar (the component the bite valve attached to originally) to the open position.
Orient the bite valve so the finger tab points towards the front of the cap.
Push the bite valve firmly onto the stem collar.
Press the straw back into place on the bottom of the lid. Ensure the straw covers the notches completely.
My bottle tastes/smells like plastic—what should I do?
We understand that the taste of plastic can be really unpleasant when drinking from your bottle. Rest assured that the bottle is made of materials that are 100% free of BPA and BPS, so the taste you're experiencing isn't a sign of harmful chemicals.
To get rid of the taste, we recommend filling 3/4 the way of warm water and a tablespoon of baking soda, and letting the contents sit for approximately 40 minutes to one hour. Once you rinse it out, your bottle should be taste-free and good to go.
What are the ingredients in your Cleaning Tabs?
In developing our newest cleaning tabs, we worked to ensure they would be safe and effective. For more information on ingredients, please see the chart below.
CAMELBAK CLEANING TABS – PRODUCT SAFETY DISCLOSURES
Cleaning Tab Ingredient List, per California and New York cleaning product right-to-know laws:
EUROPEAN COMMISSION EC 648/2004 DETERGENT DISCLOSURE: Contains <5% oxygen-based bleaching agents, <5% non-ionic surfactants; contains enzymes (amylase, protease).
PRECAUTIONS:
AVOID TOUCHING EYES AFTER HANDLING TABLETS.
DO NOT SWALLOW THE TABLET OR DRINK WATER CONTAINING A TABLET.
KEEP OUT OF REACH OF CHILDREN.
Use tablets only as directed.
Wash hands with soap and water after handling tablets.
Keep package of tablets dry, and store in a cool, dry, area away from heat.
Dispose of tablets and packaging properly.
How can I check to make sure my hydration system works properly each season?
Nobody wants to get stuck in the backcountry with a leaky reservoir. Before you hit the trails, here's how to make sure everything is in good shape:
Pull the reservoir out of your pack and give it a quick visual inspection.
Run some clean water through the reservoir and tube to rinse away any old tastes and odors. If your reservoir still looks or smells funky, give it a more thorough cleaning (you can find instructions here).
Give the drinking tube a firm tug on either end to make sure it doesn't come loose. If the tube comes off too easily, it might be stretched out—in that case, you can trim an inch off the end and then press the part back into the tube.
Check the seal on the cap by filling the reservoir with water, screwing the cap on tightly, and rotating/squishing the reservoir to make sure nothing leaks.
If your cap is leaking, take a look at the O-ring (the black rubber ring on the inside of the cap lid) to make sure it isn't twisted or broken.
If your bite valve, drinking tube or Quick Link adapter isn't working, you can buy a replacement part on our Reservoir Accessories page. For a broken cap or damaged O-ring, you'll need to contact our Warranty Department for a replacement.
Why is my reservoir cap leaking?
There are two likely culprits: grit in the cap threads, or a twisted O-ring.
In certain conditions, particularly in sandy environments, fine grit can get into the threads of the cap, which will keep it from sealing completely when you screw it on. Check the threads for any dirt or grit, and give it a thorough scrub.
Next, unscrew the cap and take a look at your O-ring. The O-ring is the black rubber ring inside the top of the cap—it looks just like a black rubber band. If the ring is twisted or pulled out of shape, your lid won't seal correctly. You can usually pop the ring back into place, but if it's permanently warped or broken, you'll need to contact our Warranty Department for a replacement.
How can I keep my reservoir from freezing in cold weather?
Our reservoirs are designed to be rugged and durable enough for almost every environment—but they're not much use if the water inside them is frozen.
Here are a few more tips for keeping your water flowing in frigid temperatures:
Fill your reservoir with warm (but not boiling) water, which will take longer to freeze.
Drink frequently (a sip every five minutes or so) to keep your water circulating.
Blow back into the drink tube after you take a sip. This will clear water from the narrowest parts of the reservoir (like the bite valve and tube), which are usually the first to freeze.
Keep your water supply close to your body by wearing your pack under your jacket and routing your drink tube under your arm or through your pit zip. Our winter packs also feature insulated drinking tubes, and many of the smaller packs are designed to fit both under and over your jacket.
On overnight trips, sleep with your water to keep it from freezing overnight. Just lock your bite valve closed and then stuff your reservoir into the bottom of your sleeping bag.
While we work tirelessly to make our reservoirs as reliable as possible, we can't change the laws of nature: in extremely cold temperatures, your water might freeze anyway. For that reason, it's good to carry a backup bottle with a larger mouth opening, like the Chute.
Didn't find what you're looking for?
You can find additional product content and information at: