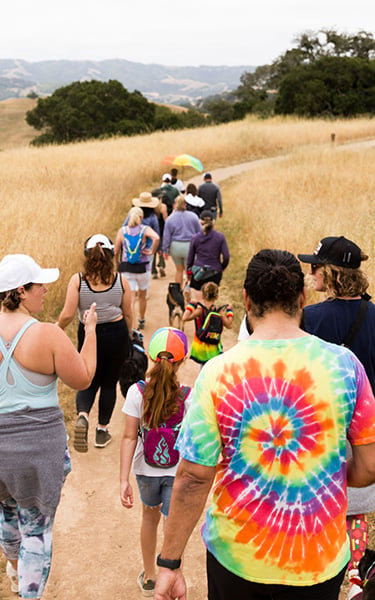 Celebrating PRIDE with Amor Para Todos
Supporting an organization that helps support LGBTQIA+ youth in the outdoors.
Making the Outdoors More Accessible
At CamelBak, we believe that the outdoors belongs to everyone. That's why we launched our Out and Proud campaign, and have partnered with Amor Para Todos, a Petaluma-based nonprofit, located in our own backyard, that's dedicated to cultivating gender and LGBTQIA+ affirming environments for youth.
Amor Para Todos Mission and History
Amor Para Todos which translates to, "love for all," is a non-profit organization founded in 2019 with a mission to save the lives of LGBTQIA+ youth. In 2023, 41% of LGBTQ youth and 50% of transgender and nonbinary youth seriously considered suicide. Serving the Sonoma County LGBTQIA+ community, Amor Para Todos saw that the school system lacked the resources necessary to create a safer and more inclusive space for young queer people.
Amor Para Todos provides teachers and administrators with the tools they need to support at-risk students and foster an atmosphere that inspires hope and builds community.
By using an innovative, intersectional approach, APT can cultivate more gender and LGBTQIA+ affirming environments for queer youth which in turn helps them get outside and feel more comfortable in the outdoors.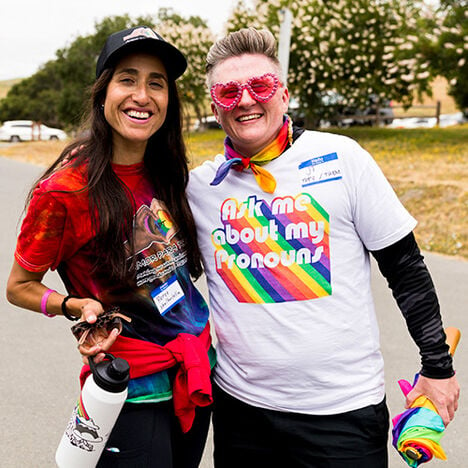 The CamelBak Connection
JT Toland is an integral part of the CamelBak team and a volunteer with Amor Para Todos. Growing up in our home base of Petaluma, California, they experienced firsthand what makes this organization so special, and why it plays such a crucial role in the lives of LGBTQIA+ youth.
"The first time I went to a Pride Festival was in San Francisco when I was 18. I grew up in Petaluma, which is a pretty small town. It's very rural, a lot of farmlands. It was also pretty conservative. So, going to Pride and seeing how people in San Francisco could just live their lives was pretty huge for me. It gave me a sense that there was a place I would fit in. I could express myself in a way that made me feel comfortable."
Since there were very few places in Petaluma that allowed them to experience the outdoors without fear of expressing themselves, JT began to look for a way to change that. "The founder of APT also grew up in Petaluma, she experienced a lot of the same things I did. She's an ally and saw that there weren't a lot of safe spaces for LGBTQIA+ youth. APT partners with schools on projects like creating gender inclusive signage for bathrooms in all schools, and just generally ensuring that LGBTQIA+, non-binary, and trans youth feel represented."
When CamelBak started seeking out an organization to create a long-term partnership with, our close connection to APT and shared mission of ensuring the outdoors are more accessible made Amor Para Todos the perfect choice.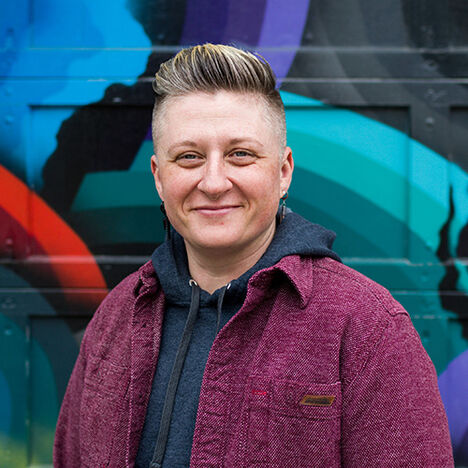 As JT puts it, "Amor Para Todos is a grassroots organization right in CamelBak's backyard, and we're going to be working with them year-round to create a social network that helps get people outdoors and creates a community where everyone feels safe. Being a queer person, especially someone who doesn't fit into the gender binary or maybe is in opposition of that, the outdoors can be a scary place because you don't know who you might run into in the middle of the woods. Having allies and other LGBTQIA+ people you can go with is often a much safer option. CamelBak's support will help take the organization to the next level. I haven't seen many organizations that do this kind of youth-focused outreach, and I really believe that this message is unique. It's honestly one of the subsections of the LGBTQIA+ community that's most at risk. Organizations like APT are needed more than ever right now."
Supporting The LGBTQIA+ Community Beyond Pride Month
Pride Month is a time to celebrate the LGBTQIA+ community, but it's important to remember that the fight for equality is year-round. Here are some ways you can support the LGBTQIA+ community beyond Pride Month:
Donate to LGBTQIA+ organizations. There are many organizations working to improve the lives of LGBTQIA+ people. You can donate your money or your time to support their work.
Be an ally. Speak up against discrimination and harassment against LGBTQIA+ people. Challenge your own assumptions and biases.
Support LGBTQIA+ businesses. Buy from businesses owned by LGBTQIA+ people. This helps to support the community and create more opportunities for LGBTQIA+ people.
Educate yourself. Learn about the history and experiences of LGBTQIA+ people. This will help you to be a more informed ally.
Looking Ahead
The LGBTQIA+ community is facing a number of challenges, including discrimination, violence, and lack of access to healthcare. We can all play a role in creating a more just and equitable world for LGBTQIA+ people.
Amor Para Todos has already had a profound impact on the local community. "Growing up in Petaluma, I think this organization hits home for me in a really personal way," JT says. "I didn't have any LGBTQIA representation here at all. Seeing kids be surrounded by a community that accepts them and watching them live so freely at these events is just so impactful for me. Everyone should have a loving and accepting home that they can be their full self at. Seeing kids at APT be able to do that, and parents be able to love their kids publicly without any judgment. I think that if I had that as a kid I could have lived more of my authentic truth as well."
Getting Involved
There are many ways to get involved in supporting the LGBTQIA+ community. Here are a few ideas:
Volunteer your time to an LGBTQIA+ organization.
Attend a local LGBTQIA+ event.
Donate to an LGBTQIA+ charity.
Talk to your friends and family about LGBTQIA+ issues.
Specific Actions You Can Take
Donate to Amor Para Todos, a local LGBTQIA+ organization that is making a difference in the Petaluma community.
Vote for candidates who support LGBTQIA+ rights.
Speak out against discrimination and harassment against LGBTQIA+ people.
Be an ally to your LGBTQIA+ friends, family, and co-workers.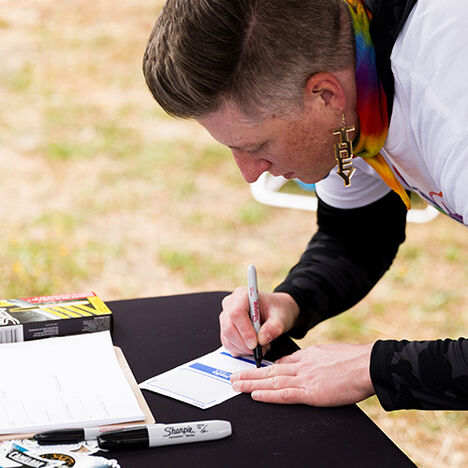 As for how we can all help support Amor Para Todos throughout the year, JT says, "Donate funds and donate your time. June is a particularly busy month, but they can always use your help. Any expertise you might have can be incredibly useful — contract writing, photography, legal counsel. Lending your skills can make a huge difference in rallying around the organization and help take them to the next level."
APT is currently participating in the National Giveout Fundraiser, which supports LGBTQIA+ organizations. From 6/1-6/28, if Amor Para Todos receives the most single donations of at least $10 (the same credit card and email can only be used once), they can win $10,000. That combined with CamelBak's donation would mean a much-needed influx of funds to support this year, so if you're able to contribute, you can donate right here.