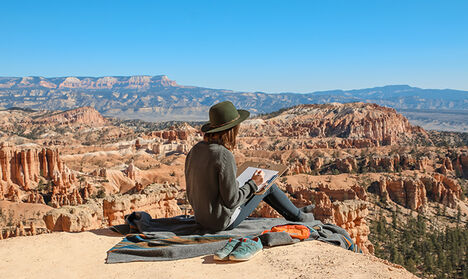 Hannah Ward
Creative Content Director/ Artist 
Bio:
Hannah Ward is a Utah native, artist, content manager, and lover of the outdoors. Hannah grew up mountain biking, hiking, paddle boarding, and exploring the beautiful outdoors in Utah. Some people like to keep journals of their travels, and she found that through sketching or painting helped her to slow down and appreciate the intricacies of the places, people, buildings, and beauty around. Art has always allowed Hannah to express herself in ways that words never could.
Documenting her experiences and travels through art led to a passion of creating content for brands. Throughout her career, Hannah has been able to work with dream clients on various art and content projects.
When Hannah is surrounded by nature she feels deeply inspired. Whether it's the oranges and reds of the Southern Utah landscapes, or the blues and greens of the lush Pacific Northwest. These moments have created a beautiful connection between herself and this wondrous earth that have really shaped me into the person that she is today.