Artist Collab - CamelBak x
George F. Baker III
A Conversation with Atlanta Artist and Muralist George F. Baker III
George F. Baker III is an Atlanta resident and Conversation Creator, Muralist and Illustrator who loves to connect people with themselves and others. Using his instruments of design, illustration, and production, he employs a playful childlike spirit to engage the child in us all. Currently, he is the Creative Director of Foster, a studio-collective striving to make people unafraid to play.
CamelBak X George F. Baker III collaboration puts a playful pep in your step, and invites you to lean in and explore the outdoors. Complete with everything you expect from CamelBak, this tumbler is perfect for exciting journeys and everyday celebrations.
To help give back to our wild places, we are donating 25% of the profits for every vessel sold to support The Conservation Alliance. Since its inception in 1989, The Conservation Alliance has helped save 73 million acres of wildlands and protect 3,576 miles of rivers. The Conversation Alliance contributes to grassroots conservation groups that advocate for community-based campaigns to protect threatened wild habitat and support outdoor recreation.
Want to discover more about the artist behind the design? Continue reading to learn more about George F. Baker III.
Why did collaborating with CamelBak feel like the right partnership for you?
I believe me, GFB3, and CamelBak are incredibly aligned in our overall goals. CamelBak as a company started from a creative idea to help people get more out of life. I create to bring people closer to their inner child so they can be themselves in their daily lives! So, it's only right we come together to do just that!
Can you tell us a little bit about the inspiration behind your design? What inspired it?
This design was totally inspired by the joy of getting outside. Whether that's literally going out into the great outdoors or just internally getting outside of your own creative comfort zones. I wanted this cup to catch you in moments where you're searching for a sign to change your environment.
How does the outdoors allow you to tap into your inner child and create playful artwork?
Going outside means you're immediately putting who you are in the context of all that is around you. It gives you an incredible opportunity to work with all the grace that is around you. If you let it, how the sun hits you in the afternoon could transform how you see the work. My characters and the items I draw are all moving and grooving with each other and the world around them.
What was the genesis behind your love for taking your art outside? And how does this tie into your artwork?
The genesis of my journey came from an old college friend, Andy Hu, recommending me to try painting murals. After painting my first mural, I realized how transformative my drawings were to the spaces and people around them. I wanted to put my work outside to create moments of inspiration for whoever walks by.
Can you tell us about your efforts with Foster and how you want to further promote people to explore and play?
I've always felt like play is essential toys naturally exploring exactly who we are as individuals. It is a moment in life where you can let your guard down and just be your most natural self. So, with Foster I just want to create environments and clothing that are designed to be played in.
Check out more of George F. Baker III's designs at @gfb3.
Related Products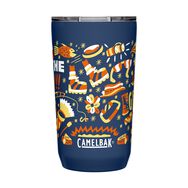 Price reduced from

$22.00
$16.50