Overlooked National Parks You Should Visit
An overlooked national park in every region of the United States
By: CamelBak Ambassador Mikah Meyer
There are 423 National Park Service sites in the United States. Yet as a recent Park Service visitation report revealed, of the almost 300 million annual visitors to America's parks last year, nearly half of them went to the same 25 parks.
That means there are nearly 400 sites that are consistently overlooked by most national park visitors, waiting for you to visit. But how do you know which park to check out?
Since I've recently been to every National Park Service (NPS) site, on a nonstop-three-year journey, I'm here to tell you the best NPS sites you need to add to your visit-list right now!
Scroll down for an overlooked national park in every region of the United States!
Northeast: Appalachian National Scenic Trail
One of the most epic trails in America has an epic ending in Maine…AND you can experience it during the most epic time of year.
The Appalachian National Scenic Trail runs 2,180+ miles from Georgia to central Maine. Hiking any part of this trail can make you feel like you're tracing the steps of trail legends (like ultra-trail runner Scott Jurek), but it's the final miles in central Maine that provide a unique experience every fall.
Often thru-hiked from South to North, if you visit in September, you'll encounter a large amount of thru hikers completing the months-long journey, and get to witness their completion on top of Mount Katahdin.
While the day hike up and back Mount Katahdin makes it worth it for any tourist, completing this section while seeing, meeting, and smelling (often before seeing or meeting) the thru hikers gives it a magic that makes visiting in fall the perfect time.
Check this Day Hike Packing List before heading up Mount Katahdin or any day's trek through a national park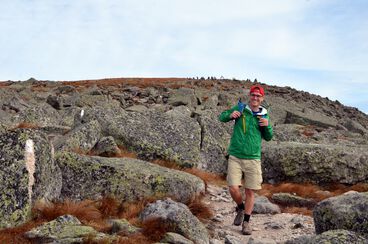 Southeast: Cumberland Island National Seashore
Jurassic Park may have just released their series finale, but there's an island off the coast of Georgia that will make you feel like you're hiking Isla Nubar. The old-growth trees and ferns are so thick, it feels as though a velociraptor could jump out at any moment! No worries, though, you don't have to be mindful of any human-eating-animals in this lush wilderness. However, if you're lucky, you'll stumble on one of the island's wild horses while exploring everything from its sandy beaches to its historic ruins.
If looking for a solid overview of the park (that must be reached by boat, including a public option), start with the South End Loop, which is a mix of paved roads, trails, and boardwalks. It loops 4.3 miles from the island's main dock, through the central section of the island, past forested areas, beaches, and the ruins of a 19th-century mansion.
This route showcases everything the island has to offer in one trail.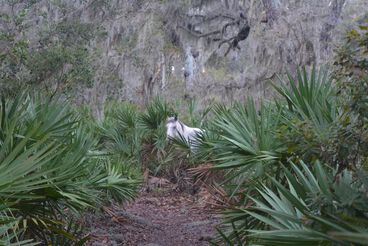 South: Big Bend National Park and Rio Grande Wild & Scenic River
Big Bend National Park (Number 108 least visited site) and the Rio Grande Wild & Scenic River (third to last!) are among my Top 10 Favorite to Visit in the entire system. Why? Well, part of the charm is their lack of visitors, as well as their remoteness that make them so magical!
A 4+ hour's drive from the nearest commercial airport, you have to know where you're headed, as you end up in the SW corner of Texas to traverse these parks.
But once you arrive, there is a tapestry of natural hot springs, desert animals (tarantulas, javelinas, roadrunners, coyotes), balanced rocks, dinosaur bones and walkable rivers (including to Mexico). Don't forget the hikes! There are breathtaking hikes where you can see a 360-degree view of the entire park and they're right next to hikes where you won't see another human for miles.
These parks also include the only National Park with an entire mountain range within its borders!
Watch my summary video for an overview and see my Instagram @mikahmey for highlights from a recent trip, specifically meant to show off the hidden spots within these hidden gem parks!
Photo below captured by Scott Kranz.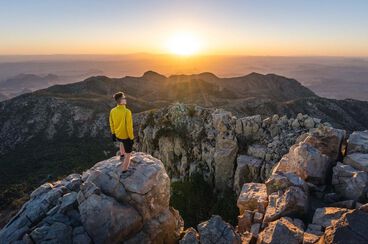 Southwest: Canyon de Chelly National Monument
Located in Navajo Nation surrounded by Arizona, Utah, Colorado and New Mexico, this Monument is just one of the interesting sites that makes up the home of the largest Native American tribe in the United States. With other sites in the nation including the Hubbell Trading Post National Historic Site, Navajo National Monument, Petrified Forest National Park, and Monument Valley Tribal Park, there is a lot nature to explore on a multi-day trip.
Beyond nature, while so many parks are filled with burger and fry options, Canyon de Chelly National Monument provides the opportunity to experience authentic Native American cuisine.
While the Monument offers two rim drives and nine overlooks, make sure to go beyond those and get into the canyon. Visitors aren't allowed to go on their own, but concessionaires like Beauty Way Jeep Tours can take you into the canyon via a local guide.

Northwest: John Day Fossil Beds National Monument
Ruby red dirt. Lines of maroon rocks stretching around mountains. Plants shimmering purple in the sunlight.
Sounds more like something from Star Trek than Oregon, yet a four-hour drive east of Portland, you'll find this otherworldly landscape while hiking around the Painted Hills Unit of the John Day Fossil Beds National Monument.
But wait, there's more. All within this one NP site, there are three breathtaking and exciting units to explore.
In addition to the Painted Hills Unit, there's Sheep Rock. With seven trails, ranging from .25 miles to a 3.25 mile loop, the Sheep Rock Unit contains colorful strata (layer or a series of layers of rock in the ground) to delight your eyes.
Claro Unit provides a trio of very short hikes, as well as the chance to see fossilized plants along the cliffed walls of volcanic mudflows, which began cooling 40+ million years ago into picturesque buttes.
With these three units spread about a one-to-two-hour drive between each other, it's best to plan an overnight stay and allow yourself time to fully experience this park.
Since this part of Oregon is very dry compared to the other side of the Cascade Mountain Range, use CamelBak's Hydration Calculator to see how much water to pack for your visit.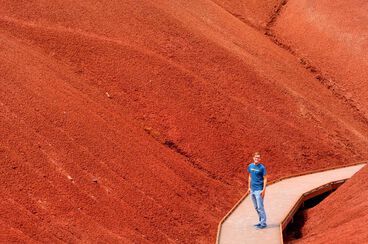 Midwest: Sleeping Bear Dunes National Lakeshore
When I become Director of the National Park Service, this is one of the sites I will lobby to upgrade from a National Lakeshore to a National Park. Partly because the criteria for earning the National Park designation includes having a diverse amount of recreational opportunities
From lake-side hikes to a myriad of boating and water activities, and a plethora of sand-dune related tests for your legs, this park, in the Northwest corner of Michigan's lower peninsula, has it all.
And unlike nearby Indiana Dunes National Park (designation changed from a National Lakeshore in 2019), which is #24 in that list of 25 parks making up nearly half the NPS visitors in 2021, Sleeping Bear Dunes received only about half as many visitors as Indiana Dunes.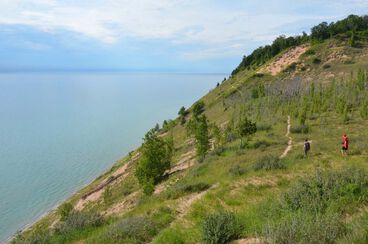 Island Territories: National Park of American Samoa
It could be easy to overlook this National Park, considering it's on the opposite hemisphere from every other National Park Service site. However, for me, that distance is only one of the many reasons why National Park of America Samoa is such a treasure to visit!
In addition to its fascinating history and relations to mainland United States, the local culture is a treasure to learn about, including American Samoa's Fa'afafine, defined as people who identify themselves as having a third gender or non-binary role in Samoa, American Samoa and the Samoan.
Plus, there are no poisonous plants, or venomous spiders and snakes on the islands!
Logistics are the most difficult part of making this visit, which is why I've put together this Ultimate How-To Guide for Visiting the National Park of American Samoa.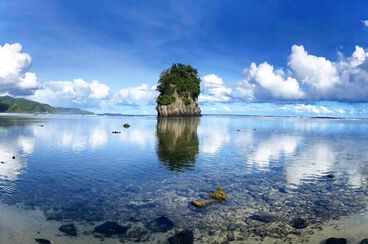 Related Products
Price reduced from

$35.00
$26.25
Price reduced from

$50.00
$37.50