Cooking Close to Nature
Outdoor chef Brian Lee shows us the beauty of Baja California Sur
The beauty of Baja California Sur, Mexico is that after a long day of surfing and soaking up the sun, the whole beach is your kitchen. Few people have a greater appreciation for all Baja has to offer than Chef Brian Lee.
Food has always been a big part of Brian Lee's life. Lee is a professional chef and the founder of Marénost, which specializes in small-batch olive oil and sun-dried tomatoes. Based out of LA, he spends a lot of time exploring the coast of California in search of ingredients and inspiration.
"My mom and grandma would dedicate weekend mornings to making kimchis and other banchans [side dishes]," Brian tells us. "But I started to look at food differently after working at Gjusta. It made me understand the importance of sourcing the right ingredients from the right places."
Brian recently packed up his CamelBak® ChillBak™ Pack 30 Soft Cooler with a few choice ingredients and hit the road for a trip south of the border. We caught up with him to ask some questions about how he got his start, the benefits of cooking over an open fire, and learn the secrets of what makes his sashimi so special.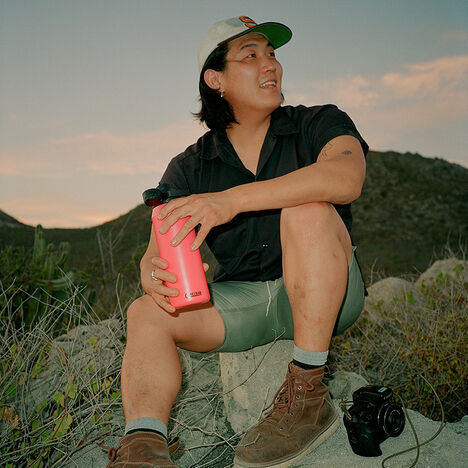 Exploring Baja, California Sur
"I've always felt an affinity for Baja, especially for the surfing and moto aspect," Brian says. "It feels like the Wild West with plenty of opportunities to find adventure." Baja is well-known for its miles of open desert and vast beaches where you can pitch your tent with a view of the ocean. It's that freedom that draws Brian back time and time again. "Fires on the beach, lots of fish to catch, access to motorcycle trails, cooking with simple local ingredients — life doesn't get much better."
Outdoor Cooking Essentials
Making meals on the beach provides its own set of challenges and rewards. But as long as you're well prepared, there's no better kitchen in the world. Brian has a few tips for cooking over the campfire and what you should bring along to ensure a successful trip.
"Cooking over an open fire forces you to be a bit more mindful and meticulous with cooking the meal," Brian says. "When I first start the fire, I like to use the flames for my cast iron pots and pans to finish off any mise en place, then as the bed of coals begins to form, you can start to determine the heat you want to apply to the vegetables or proteins."
Shop Outdoor Cooking Essentials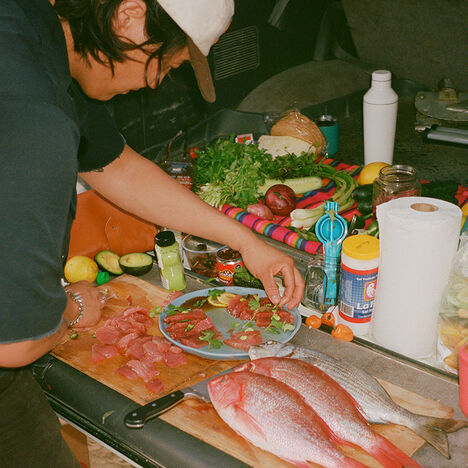 Finding The Right Ingredients
Baja California Sur is full of fresh, local ingredients that are readily available and instantly elevate any dish into something delicious.
"I primarily use local farms for produce and intentional ranches or fishmongers for proteins," Brian tells us, "but if I could only have three ingredients to work with, they would be extra virgin olive oil, lemons, and salt," Brian says. "That combination of citrus, oil, and spice is all you need."
Even the simplest, most basic ingredients can still help you discover something new. "I recently watched a documentary by Les Blank called "Garlic Is As Good as Ten Mothers," Brian says, "it really made me excited to try and make simple food that's approachable for everyone. It inspired me to look at everything I do in a more open-minded, lighthearted way."
How to Pack Your Cooler
Start with a layer of ice and then stack all of your drinks and less fragile ingredients to form a base for the rest. Keep produce and vegetables on top so that they won't be crushed or bruised while you're hauling them down to the beach. Use large chunks of ice instead of smaller cubes, the bigger they are the slower they'll melt in the sun, which in turn will keep everything colder for longer. The CamelBak® ChillBak™ family of soft coolers are completely waterproof, and the built-in Fusion™ Group Reservoir holds up to 6 liters of ice-cold drinking water so you can stay hydrated close to shore or out on the ocean without having to worry about your ingredients getting soaked. Plus, the roll-top closure provides extra storage space for things like sunscreen, binoculars, sunglasses and other small items.
Getting Closer to Nature
"It's great to build friendships and relationships with the folks in charge of growing and harvesting your ingredients, but there's nothing like using ingredients that you've foraged or hunted for yourself," Brian says.
Baja provides an incredible opportunity to feel closer to your food. The ocean is teeming with fish that you can catch from the shore, by boat, or by spearfishing. While Brian and his friend Christian Ramirez were diving in search of fish to catch for dinner, they could hear the sound of whale calls bouncing off the rocks around them. "We just looked at each other underwater and went nuts," Brian told us.
There's something elemental about cooking over an open fire, right beside the ocean that provided you with your meal, using vegetables and ingredients sourced just a few miles from your campsite. It's a feeling that's best enjoyed surrounded by good friends and with a deep appreciation and gratitude for the natural world.