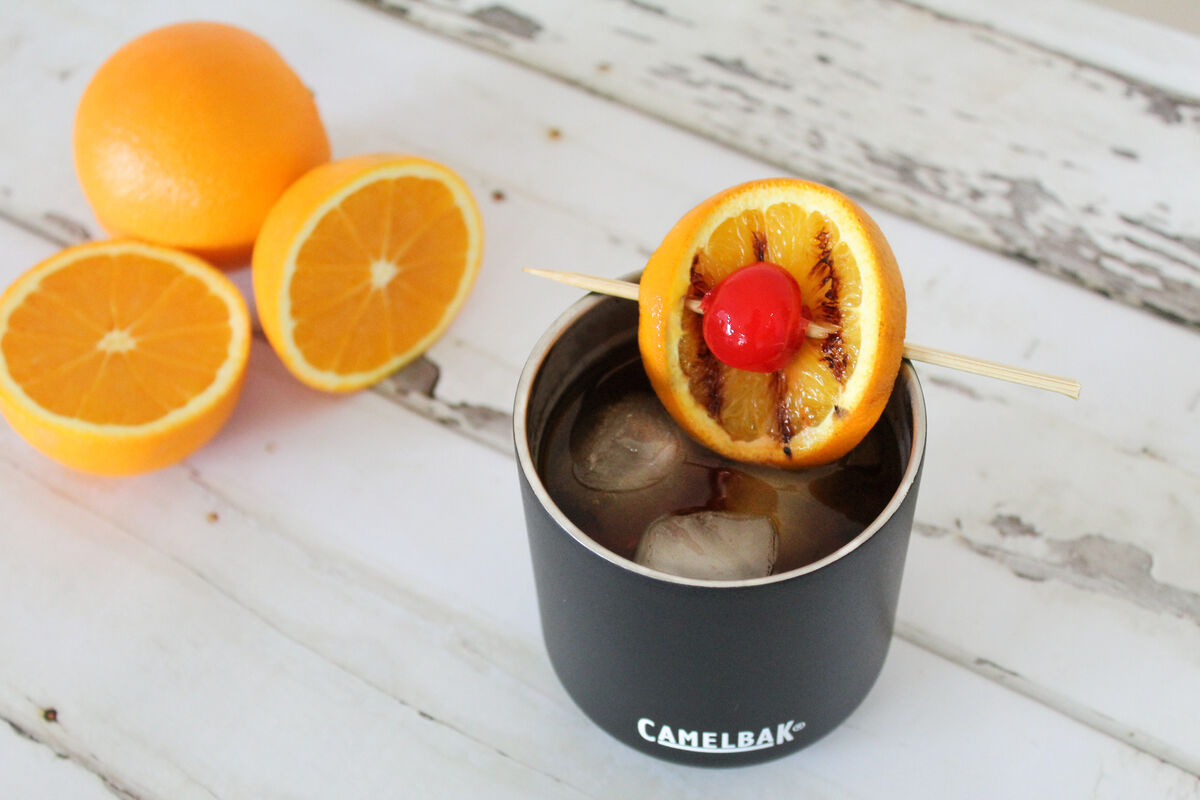 CamelBak X Camp Chef: Smoked Old Fashioned Drinkware Recipe
CamelBak X Camp Chef: Smoked Old Fashioned Drinkware Recipe
Sometimes, there's nothing better than a cold cocktail by the campfire. Camp Chef makes grills, outdoor cooking systems, cookware, and accessories to help you eat well from the back patio to the backcountry. And we trust they know how to mix up a pretty good beverage, too.
CamelBak has partnered with Camp Chef to create a flavorful, homemade cocktail recipe especially for our insulated stainless steel drinkware. This smoked old fashioned is the perfect end to a long day out on the trails⁠—but you can enjoy it anytime, anywhere.
Smoked Old Fashioned
Serves 1
Ingredients:
· 1.5 Tbs. Simple Syrup
· ¼ cup whiskey, bourbon, or brandy, etc.
· ½ cup lemon lime soda mixer
· Dash of bitters
· 1 orange sliced
· 1 cherry
Instructions:
Preheat your Woodwind Pellet Grill to 180F to make a batch of smoked simple syrup. While the grill pre-heats add 1 cups water to 1 cup sugar. Dissolve. Pour into your 12" Camp Chef Skillet (or sheet pan with at least 1-2-inch-high sides.) Place on the bottom rack for 2 hours. With heat guard gloves, remove from the pellet grill and cool completely. Bottle in an airtight container such as a mason jar and store in the refrigerator for up to a month.
Slice oranges and drain your cherries. Place your cherries on a small baking sheet on the top shelf of the grill. You can place the cut oranges direct on the bottom grate next to your Cast Iron Skillet. Smoke oranges and cherries for 10-30 minutes according to your smoke preference (10 minutes being for a little smoke and 30 minutes for a lot of smoke.)
Pour simple syrup mix to cover the bottom of your CamelBak Horizon Rocks Tumbler. Add ¼ cup of whiskey or your alcohol of choice. Stir. Add ice. Stir again. Add ½ cup of your favorite lemon lime soda mixer. Stir until foamed. Garnish with smoked orange and/or cherry.
For a mocktail use barley tea (steeped for 10+ minutes) instead of the whiskey. Bitters tend to have a very minute amount of alcohol in comparison to the actual drink. Keep it as is or purchase non-alcoholic bitters like Dram.
Do not operate your Camp Chef cooking equipment while under the influence. Please consume responsibly.
Want more drinkware-ready recipes? Get your buzz with GonDirtin's Camp Vietnamese Iced Coffee. Or, enjoy a twist on a classic with The Veganova's Blood Orange Negroni recipe.
Related Products