Journey Forward: CamelBak's Commitment to Sustainability
Protecting the planet one pack at a time.
Forging a New Path Forward
When CamelBak® founder Michael Edison wanted to find a hands-free way of hydrating during a bike race, he filled an IV bag with water, slipped it into a tube sock, and stuffed it in the back of his bike jersey. The rest is history. Finding innovative, sustainable, and creative solutions has always been at the core of everything we do.
We've never been the type of company to stay in one place. We're always striving to find new and innovative ways to reduce waste, reuse everything we can, and reimagine a better way to stay hydrated.
Every single one of our designs starts with a careful consideration of its environmental impact. Our goal is to make the best sustainable water bottles and hydration packs possible using eco-friendly materials that put the planet first without sacrificing quality, durability, and performance.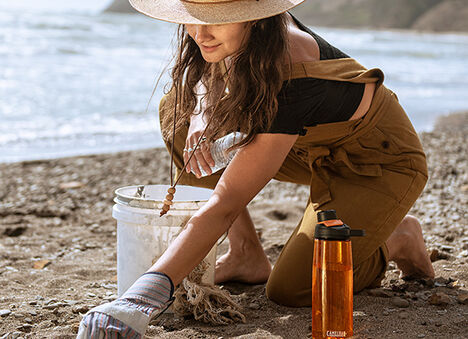 Climate Action
We firmly believe that climate change is the most urgent issue facing the planet. We're committed to creating meaningful change and meeting aggressive carbon emissions reduction goals. By collaborating with our manufacturing partners and challenging ourselves internally, we're focused on how we can lessen our environmental impact and help drive positive change.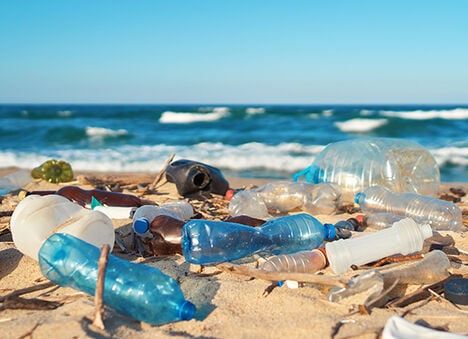 Ditch Disposables
Did you know that 40% of plastic products become waste after just one month? In the US, just 1/10th of all plastic ends up being recycled, the rest ends up in landfills or washes up on shore. There's an average of 325 plastic particles in every liter of plastic bottled water sold, and the amount of plastic litter in the Arctic Ocean has grown to be twenty times larger than it was just 10 years ago. It's currently estimated that fish in the north Pacific eat as much as 12,000-24,000 tons of plastics per year, and seabirds consume as much as 100 tons of plastic per year.
That's why we want to make reusable water bottles second nature. By bringing your own bottle and ditching plastic for good, you can help have a massive impact on protecting fragile ecosystems that are being devastated by plastic.
Getting Circular
Tackling climate change requires us to think outside the box. Through our upcycling projects with CamelBak® ambassador Nicole McLaughlin, we hope to highlight the ways we can re-use gear in new and creative ways that push the limits of what's possible.
The Tritan™ Renew Program
Our manufacturing processes help breathe new life into recycled plastic waste as well. Our Tritan™ Renew program helps divert plastic waste that would otherwise end up in our oceans or landfills and instead uses it to create recycled and sustainable products that help us create a better future.
Made with Purpose
Everything we make is designed with a purpose. REPURPOSE is CamelBak's sustainability label that designs creative solutions to help you lead a more sustainable life. We're committed to making choices that make a difference in the world.
Below are all the ways we're challenging ourselves to reconsider what CamelBak® can be:
Re-Formulate: Made with safer chemicals (BPA, BPF, BPS Free).
Reuse: Made with recycled materials.
Re-Package: Uses minimal recycled packaging content.
Reduce: Designed to preserve resources and diminish disposables.
Rethink: Designed to be repaired and reused.
The Journey Forward
This is only the beginning. The problems facing our planet require individual action, and cooperation around the world. As we move toward building a better future and a healthier planet, we'll continue to lead the charge of finding more sustainable ways to stay hydrated while ensuring our most precious resource never runs dry.