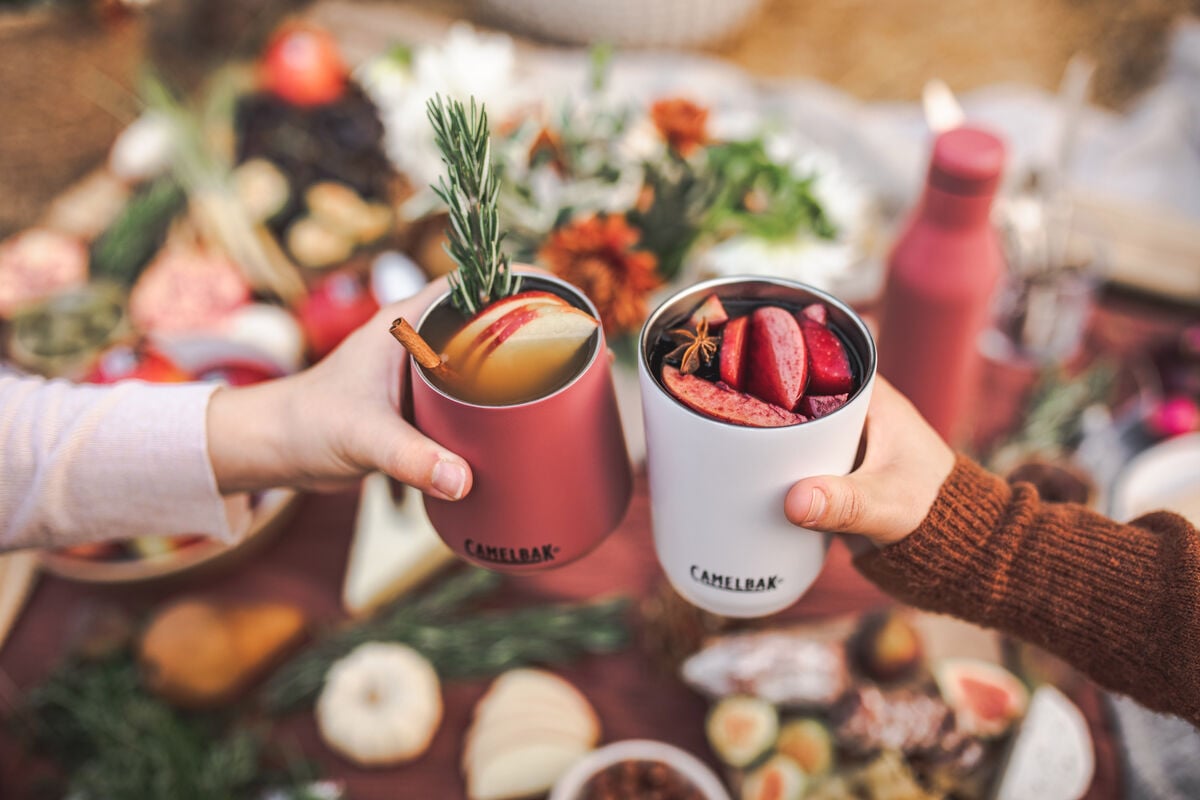 Spiced JUICI Apple Mulled White Wine
Spiced JUICI Apple Mulled White Wine
Starr Ranch Growers is a sustainable and Fair Trade Certified orchard growing delicious cherries, pears, apples, stone fruit, and more. We've partnered with Starr Ranch and their trademark JUICI apples for easy DIY cocktails crafted for our insulated stainless steel drinkware. Grown in Washington, JUICI apples are a balance of sweet and tart, with an amazing crunch.
The folks at Starr Ranch came up with a drink that has plenty of fall vibes, but tastes great any time of year. If you love apples, cinnamon, and wine—you'll love this drink recipe. If you ask us, it sounds downright perfect for sipping by the campfire after a long day on the trails. But you'll have to see for yourself!
This recipe makes 5-6 servings and takes about 30 minutes to prepare.
Ingredients
1. 1 bottle dry white wine
2. 1.5 cup apple cider
3. 1/3 cup honey
4. 4 cinnamon sticks
5. 1 JUICI apple, halved and sliced
6. 1 lemon, juiced
7. 5 whole cloves
8. 3 whole cardamom pods
Extra for serving:
• Cinnamon sticks
• Sprigs of fresh rosemary
• Additional JUICI apple slices
Instructions
Add all ingredients together in a large saucepan over medium-low heat. Bring to a light simmer for about 20-25 minutes or until apple slices are soft. Once soft, taste test as necessary to see if you'd like to add more sweetness or spice. If so, add additional spices and honey until the mix is to your liking. Pour immediately into CamelBak Horizon Wine Tumblers and garnish with fresh cinnamon sticks, rosemary and JUICI apple slices. Serve warm. Cheers!
Why Insulated Stainless Steel Cups, Mugs, and Bottles?
Whether you're in the car, at work or in the backcountry, insulated stainless steel is an excellent choice for your on-the-go drinkware.
Double-walled insulation keeps cold drinks cold, and hot drinks hot. There's never any buildup of condensation on the outside of your bottle, tumbler, or mug. And stainless steel is super durable and long-lasting, so it can withstand your adventures no matter the elements.
Related Products
Price reduced from

$25.00
$18.75
Price reduced from

$20.00
$15.00