How to Make Biking Part of Your Everyday Life
Some tips for commuting, mountain biking, and everything in between.
Few modes of transportation are as effective, efficient, and economical as the bicycle. It can be your gym, your ride to work, and your escape from the everyday all in one. But biking isn't just good for you, it's good for the planet too. According to research from the University of Oxford, choosing a bike over a car just once a day reduces the average person's carbon emissions from transportation by 67%.
Bikes can also open us up to a whole new way to explore the world, and they can turn something as dull as a commute into an adventure—or a chance to get some exercise. Whether you're just getting started or just looking to refine your kit, here are a few ways to maximize the full potential of your bike and make it a regular part of your daily routine.
Maximizing The Full Potential of Your Bike
Biking to Work
It's not possible for everyone, but if you're able, biking to work can be a great way to get in some exercise, save money, and lower your carbon footprint. People who bike to work can save thousands of dollars per year, take fewer sick days (thanks to a healthier immune system), and drastically reduce the amount of carbon dioxide they produce.
Better for Your Wallet
As of this writing, the national average cost of a gallon of gas is $3.54. Between fuel cost, maintenance, and insurance, things can really start to add up. According to the Citi ThankYou Premier Commuter Index, the average American commute costs $2600 a year. The average cost per mile for a bicycle is just 10 cents, enough to cover the replacement tube for an occasional flat tire you might encounter on the road.
Better for the Planet
A typical passenger car emits 4.6 metric tons of carbon dioxide a year according to a study by the United States Environmental Protection Agency. Since bikes are human-powered, your C02 emissions only come from the food that fuels your ride. Cycling is a cleaner, quieter, alternative that's more eco-friendly and can often prove to be even faster than taking public transportation.
Better for Your Health
A 2017 study from the British Medical Journal showed that commuting to work by bike is associated with improved cardiovascular functioning and a decreased risk of cardiovascular disease. But it's not just your heart and lungs that are given a boost, your immune system is too. According to a study by the United States Department of Health and Human Services, cyclists take 32% fewer sick days than their co-workers who don't.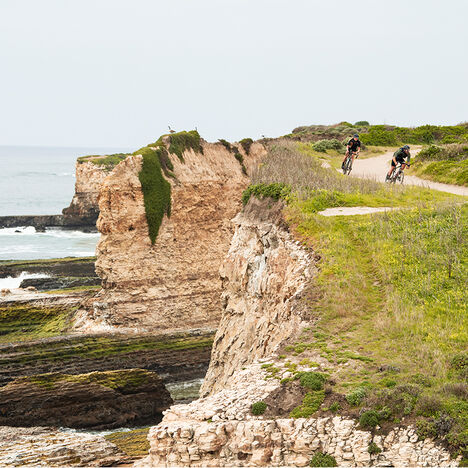 How to Start Biking to Work
Plan your route ahead of time.
For example, even a city that's filled with steep hills and busy streets like San Francisco has a bike route (affectionately called "The Wiggle") which leads you on a zig-zagging path that's plotted to help you avoid the worst of the city's traffic and inclines. Finding the right route can make all the difference between breezing into work and feeling like you somehow have to drag yourself uphill both ways. Google Maps and Waze are two map apps that feature the ability to filter by bike routes, back roads, and more.
Have the right gear.
Dress in layers that you can easily strip off if you end up breaking too much of a sweat, and be sure to pack a light poncho for any sudden showers. Make sure you have a bright bike light (front and back), as well as rear reflectors, especially in the winter months where it gets dark right around rush hour.
Find a way to feel more comfortable.
Need an extra push to get going? Events like National Bike to Work Day and more, are held nationwide and can be a great way to start biking with a built-in community of fellow commuters. All you need is a bike, a helmet, and a bag for storing whatever you need to get your job done.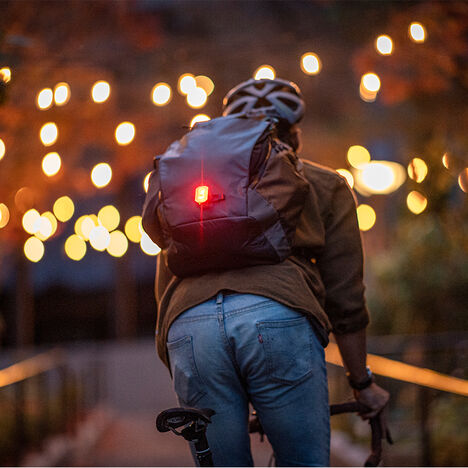 Commuter Bags
A good commuter bag for biking to and from work needs to be lightweight but still offer plenty of space for all the essentials. Below are a few great options for commuting, all of which feature a dedicated laptop sleeve so you can keep your electronics secure, even when you're running late and need to pick up the pace.
A few other items to include in your commuter kit include a spare tube, small repair kit, and handheld pump in case of a flat tire, and a lightweight layer in case of unexpected rain.
Just the right size for your commute, the M.U.L.E.® Commute 22 is a roomy, weatherproof pack with an internal laptop sleeve to keep your computer secure. The Command Center™ Harness organizes all of your smaller items up front and keeps them easily accessible, the side pockets are perfect for stashing your U-Lock or water bottle, and the dedicated Air Support™ back panel ensures you stay cool and comfortable no matter how far you're commuting.
If you're carrying a bit more gear and could use the extra space, the H.A.W.G. Commute 30 Backpack is for you. The clam-shell design gives you quick access to 30 liters of internal storage space, a weatherproof laptop sleeve, and zip detail pockets for keeping smaller essentials secure. Plus, there's a loop for attaching a bike light to provide extra safety and visibility.
3. The Arete™ 18 Hydration Pack 50 oz
If you just need to carry some smaller, lightweight tools of the trade like a spare set of clothes or a uniform, the Arete™ 18 Hydration Pack 50 oz can be a great option. It's compressible, so it packs down easily in your locker or desk drawer, and features one large main compartment that's perfect for quickly stashing extra layers. If you do need to bring a computer along for the ride, you can easily swap out the hydration reservoir for your laptop and trust that it will stay safe and secure in its dedicated sleeve.
Biking as Exercise
Biking can be a great way to get in some exercise and see the sights at the same time. Many parks have scenic loops that let you get some laps in while also breaking a sweat. For example, Prospect Park in Brooklyn features a 3.35 mile loop that runs along the perimeter that is car-free and has a dedicated bike lane the entire way.
It's been shown that biking for just 30 minutes a day can have a positive impact on your health, from improved sleep and cognitive function, to a decreased risk of heart disease and chronic back pain. There are few better ways to get in a cardio workout that are more convenient than biking.
All you need to start sweating is the right fitness gear. Below are some streamlined waist packs that will keep you hydrated without getting in the way. In addition to plenty of water, some things you might consider bringing along for the ride are a protein bar for fuel on-the-go, and a fitness tracker. Apps like Strava allow you to track your miles, elevation gain, and personal records. It can also be a great resource for finding new routes, loops, and challenges to tackle.
Join the CamelBak® community of athletes on Strava for access to running and biking challenges plus exclusive discounts on gear.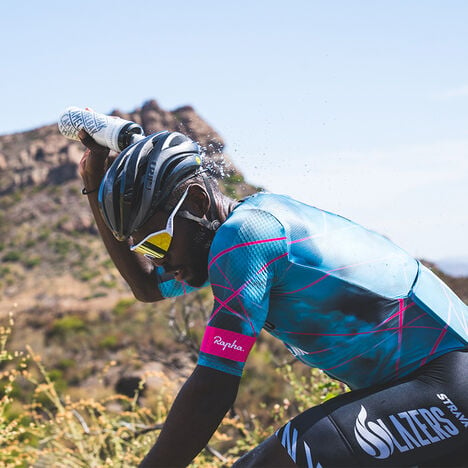 1. M.U.L.E.® 5 Waist Pack with Crux® 1.5L Lumbar Reservoir
This heavy-duty waist pack is great for mountain biking and long rides where you might get caught in an unexpected storm or need to bring along some extra gear for a particularly long ride away from home. The straps on top let you tie down a jacket or extra layer, and the pockets provide plenty of space for nutrition bars, your wallet, keys, and other essentials.
2. Podium® Flow™ 4 Hydration Belt
Packed full of features, this lightweight hydration belt keeps a Podium® Dirt Series 21 oz water bottle close at hand, while the Air Support™ system will keep you cool and comfortable all day long.
Get Out There
Whether you're looking for a new way to exercise or need a more efficient way to get to work, a bike can be your ticket to a better future. All you have to do is gear up and get out there.